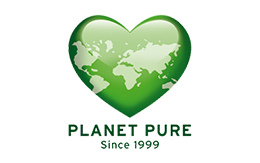 Planet Pure manufactures authentic organic products by using the maximum amount of plants and raw materials which are not chemically altered. Because Planet Pure products are purely natural, they are 100% biodegradable in our water within a few days – and, in turn, also protect human health.
Due to the natural pureness of the products, there is no contamination of the waters, no toxic substances settle and protect water organisms.
Through the use of the products, the drinking water is not contaminated and our organism is not burdened thereby as otherwise by chemical products, which are never completely removed from the cycle of nature or require a very long time.
Planet Pure honors and respects the life of all creatures. For this reason, all of the manufactured products do not contain any animal ingredients.
All Planet Pure products have not been tested on animals!